She is tough as nails yet has a tender heart.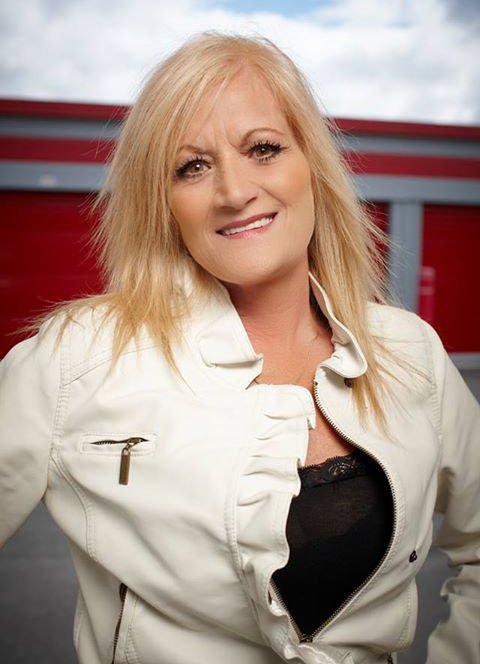 OLN`s reality television series
Storage Wars: Canada
star Cindy Hayden dubbed as the "Queen of Storage." Be wise to heed her when she states:
"I`m usually a good girl, but if you cross that line at an auction, I`m coming after you."
That is a proven fact. Only her man Rick can keep this tigeress from stealing all the lockers at auction. However, underneath her gritty exterior glistens an empathy for the elderly.
Cindy took time out of her busy schedule to answer a few questions for iBid4Storage.
Cindy Hayden Interview
Q. You were born in Buffalo, New York, but at the age of 6 you moved to Crystal Beach, Ontario. What was life like growing up?
A. My family moved to Crystal Beach in the 1960s. My father was a professional hockey player before we moved and he was always away in the winter and at home for a few short months in the summer.

Living with 7 other siblings in a tiny house was chaos and times it was tough living in a small town as far as work went. My mom worked very hard home with all of us kids. Sometimes she felt like she was a single mother.


Dad then retired from hockey after we moved to Canada. My older sisters and one older brother moved out and that left just my two younger brothers and me. We always had lots of snow all the time. We had lots of fun. I remember the great snow storm of 1977. Everyone got snowed in, but for the kids in town we had a blast.

Growing up in an amusement park town and lying on the beach was fantastic – year after year. Who wouldn`t want that as a kid?
We always had food to eat, even though the work for construction was slim to none in the winter months. My mom and dad always managed to have food on the table. We still have our family home there and I love it as much as I did when I was a kid.
Q. Who was the greatest influence in your life growing up?
A. Mom and Dad both.
Q. What was your childhood dream?
A. I wanted to become a professional athlete. I was one of the best in my day. In my teen years I excelled in track and field. As short as I was, boy - I could RUN! I was a long distance runner and well-known in my field. I ran the 400, the 800 and cross country like nobody's business. I received many trophies and medals in my day as a runner.

I also wanted to be a detective. I love all detective work. I love reading true crime stories and the mystery and intrigue of solving a crime.
Q. What life lesson did you learn in the retail business?
A. Treat everyone with respect, no matter what their opinion.
Q. You graduated with a business degree from Seneca College. Why did you choose a business?
A. I have always been involved in the business world. Growing up in a small town that had a famous amusement park, my first job was working the milk cans… Yes, my first job was a carnie.

My jobs have been rather interesting. As a Hotel Front Desk Administrator you see everything in that business. I was a manager at a big chain grocery store. I owned and operated a cleaning business. I worked in a printing factory, food processing factory, party supply store, a lottery booth in a mall, toy warehouse. I even worked as a night club coat checker. (Laughs.)
Q. Tell us about your background in Healthcare.
A. Working with seniors and their family everyday was my world. My position in this field has been as Director and coordinator. I have sat with many families over the years and by request to be present with their loved ones before passing. It was an amazing feeling to be there to comfort all in need, and at the end of the day... You feel good. If you don`t have a heart and are not a caring person, this isn`t the job for you.

Home for the Day was a senior day program designed by Rick and me. It enabled seniors to have the ability to still stay in their home to avoid placement in an institutional environment. Families would drop their loved one off in the morning and pick them up after work. Seniors would come to Home for The Day and be engaged in conversation and activities, which was important to maintain their independence and prevent them from becoming bored or lonely.

The smell of homemade bread and fresh ground coffee along with the sound of music when they entered gave them a sense of home. Rick was the best bread baker in town. All of the meals were prepared with each individual`s nutritional needs in mind. We had great activities and outings for the seniors. Our guests went home happy and eager to return. There are many stories over the years, some happy and others sad.

One story in particular while working in a senior's home still has us laughing to this day!

One morning during breakfast, I received a call
from Rick -"Help! Can you please come upstairs; we have a problem we need to solve before our families arrive."

Well, it appeared that Wilimena, aka Willie, a 99 year old gal who we just loved and adored; decided in the middle of the night that everyone`s dentures needed to be switched - including her own!

We frantically tried to match the right dentures to the proper resident. We did a test at breakfast and hoped for the best. About 30 residents had trouble eating, but they didn't complain. It was insane!

This was a high-end retirement home and we knew it wouldn`t be easy to inform the families that we had lost everyone's teeth or that their family member`s dentures were switched.

It was very hard for Rick and me to stop laughing while tried to find a solution without destroying the dignity of each resident. We ran to their care plans to check again.

Rick used the profile pictures of each resident's smile to identify their teeth to make the switch back so that the families wouldn`t be alarmed. It took about three hours, but Rick pulled it off.

The families were notified that their loved one`s teeth needed to be made more identifiable in the event of potential loss or misplacement; engraved in gold lettering preferred. (Laughs.)
Q. How did you start as a picker?
A. I became a picker at the age of 10. My brother-in-law from Vegas held yard sales, dumpster dived, garbage picker… You name it, and we did it. My first bike came from the side of the road that somebody threw out. (Laughs.) I loved it. Ever since then I have done all of the above and then some. Rick and I also go into abandoned buildings to treasure hunt.

As a child, I picked for it was my world, my life. There is nothing better in life than finding those rare, one-of-a-kind treasures; and yes, don`t forget the Gold, Silver and Diamonds. Yes, we are dumpster divers, side road finders; you name it, we will do it. We look for our next treasure hunt all the time.
Q. When and how did you get tagged as "The Storage Queen?"
A. I was tagged "The Storage Queen" many years ago by other bidders and family members. People also call me the "Yard Sale Queen." (Laughs.) And I am. I go after what I want at an auction.

It's like this - if you want a unit, BUY IT! There are lots of heavy hitters out there, all men usually, and they don`t bother me or scare me because in the end, if I want it, I'm going after it. It`s tense, it`s fun and it`s real! At the end of the day, it's all about what you bought. Good, bad or ugly. You bought it!
Q. When did you open your own store and tell us about that experience?
A. We opened Storage Treasures Thrift Store in 2012, which by the way, was the first Canadian thrift store. Business was good and we work 7 days a week. We currently relocated our shop. We are at the 400 Market every weekend. We also take a 14 ft. truck once a week to auction to sell our stuff at the thrift store. We will be franchising across Canada online.
Storage Wars: Canada
Q. How did you get cast on the show?


A. Rick and I heard that Storage Wars came to Canada. I was really happy because years before I kept posting everywhere I could - "Bring Storage Wars to Canada. We'll show ya how it's done." (Laughs.) So one day, we were contacted by the network to do an audition. Apparently they heard great things about Rick and me.

The production company does their research. (Laughs.) We did our audition in our shop. It was so much fun and pretty exciting. I was pumped.

The next step was the waiting game. Not an easy game to play. The wait was a long 2 months to hear if we made it or not. Wow! Well, the call came and it was a BIG FAT YES!!! Rick and I were really happy, because as you know, we do this for a living, so we thought we could bring some real-reality to storage auction buying in Canada.
Q. Describe your dream locker.
A. I would like to find a locker with REAL MONEY inside.
Q. How did you find that huge-ass ring that you wear on the show?
A. It was December 19, 2012, which is my brother Kenny`s birthday by the way. The auction was calmer than usual that day. There was a new couple that started bidding against us. "No problem," I said. Let's see where this goes. Well, the guy kept going. When he reached $1,000 he still kept going. I just kinda stared at him, feeling him out, and I guess that was enough. We won the locker at $1,350. Woo Hoo!

Inside of two boxes we found 3 jewelery boxes. When we opened them, jewelry was falling out of them! Ok, so we get to the costume jewelry pile and pick up this huge rock. (Laughs.) Well, the diamond tester went crazy when we tested the big one! Hard to believe?

After finding an independent appraiser that I thought had a good resume with a background in diamonds; we took the Beast Ring in to be dissected to find the true history of the ring written in stone, so to speak.

It goes like this: It is a 3.14 carat single stone. Old European cut. Dated 1926-1932 and set in 14k gold. Weight in gold was 5.70 grams. Wow! Yes! Wow! Yes!
Q. What has been your best find at an auction on or off camera to date?
A. Best finds have been lockers full of treasures... Stay tuned.
Q. Describe your cast mates:
A.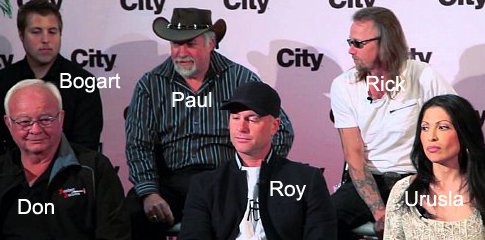 Don:

Best, kind man, but he does not take anybody's crap.



Roy: Over the top. He thinks his crazy antics distract people, but they don't work on us!


Ursula: She is a newbie, but she's slowly learning.
Bogart:

Little less of a gambler and is a little more realistic in what lockers to bid on.



Paul: He's a gambler and often takes a gamble on not-so-good lockers. He's looking for that hidden gem, but I don't think he's found it.

Rick: The man. He grounds me at auctions. He knows what he wants to buy and buys it. He is the calm, cool, collective Rock Star.

Q. What sparked the rivalry between you and
Ursula
?
A. Well, it's easy. She came on to thinking that she was all of that. (Laughs.) I speculated a bit of jealousy there. Not sure why, so the war began. Respect is gained, not given, so I had to show Ursula the way and who is the "Queen of Storage." (Laughs.)
Q. What surprised you most about working on a reality television series?
A. It is more fun than I expected.
Q. You are the only bidders in any the
Storage Wars
franchise that is driven to an
auction
. Why is that?
A. My daughter Tara has been working with us for many years. Tara is a machine and she knows the business inside and out. We decided that it made sense that she would drive us as she really loves to drive. With that being said, I decided that I enjoyed being driven around, call it spoiled… Whatever. Come on! Who wouldn`t like to be chauffeured around?! It`s quite relaxing sitting in the back seat. Rick and I have driven over the years, but Rick and I decided it was fun having Tara drive us around.
Q. What was it like when Rick proposed to you in a locker during the show?
A. I was shocked, surprised, and thought - What the Hell is going on here? WTF - kinda thing. After all, it was a long ass cold day of -40 C° that day. I was speechless. My lips were frozen. (Laughs.)
Q. How would you describe the show?
A. I love the show. It shows the REAL-REALITY of Canadian storage auctions. It's tense at times, exciting, fun, and everyone we work with are amazing people who work very hard in making our show a success.
Cindy enjoys keeping in touch with her fans. Follow Cindy & Rick on Twitter @TheVeterensx2 or `Like` their Facebook Fan Page http://www.facebook.com/cindy.hayden.148. You can also shop on their online page http://www.facebook.com/UnforgettablesStoreTreasures.
Q. How did you meet
Rick
?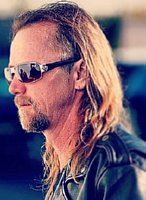 A. I met Rick one night at a house party that I was invited to. It was about midnight when I met him. Rick came through the door. I really didn't notice him until I felt a pull on the back of my hair. I turned and looked and I said, "Uh, excuse me." Rick said, "Sorry, I thought you were someone else."

Ok. The night went on, lots of fun, we went on a date the next few days and, well, here we are.
Q. How many kids do you have?


A. I have two beautiful children. Tara Hayden is 33 years old. Derek Hayden is 31 years old. He is a master ponds, pools, and waterfalls builder.
Q. What was it like for your family and friends when they saw you on that first episode?


A. My family freaked out when they saw that first episode. They were really excited and happy because my dream came true. There it was. Very surreal.
Q. What are your pet peeves?
A. People who lack listening skills and communication skills.
Q. What are your hobbies?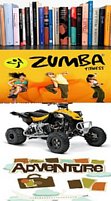 A. Reading. Zumba work out. Ride in our All Terrain Vehicle. Take spontaneous adventures.
Q. What mottos do you live by?
A.
1.Treat people how you would like to be treated.
2. If it makes you happy do it - if it doesn't, then don`t do it.
3. Work hard now, play later.
Q. What is your best attribute?
A. Tenacious. I strive to achieve my goals and get what I want.
Q. What is your worst attribute?


A. I can be too outspoken at times. I don't hesitate to tell people how I feel - good, bad or ugly.
Q. What is on your bucket list?


A. Travel the world and be wild and free.
Q. How would you like to be remembered?


A. As a kind, generous, happy person who loves life.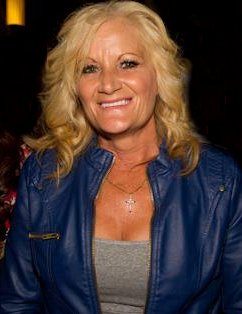 Check your local listing on the OLN channel for times on episodes for
Storage Wars: Canada.
What did you think of Cindy`s interview?
Be sure to connect with us on Twitter
@ibid4storage
or
Facebook
.



Also



Paul Kenny`s Interview
Bogart Kenny`s Interview
Ursula Stolf`s Interview

Rick Cofill`s Interview
Don Reinhart`s Interview
About the Author...
Chuck G. is a freelance blogger and celebrity interviewer based in Southern California. She`s quite the geek who likes to play arcade games and writes/produces short films. You may follow her on Twitter @chuckgwriter.